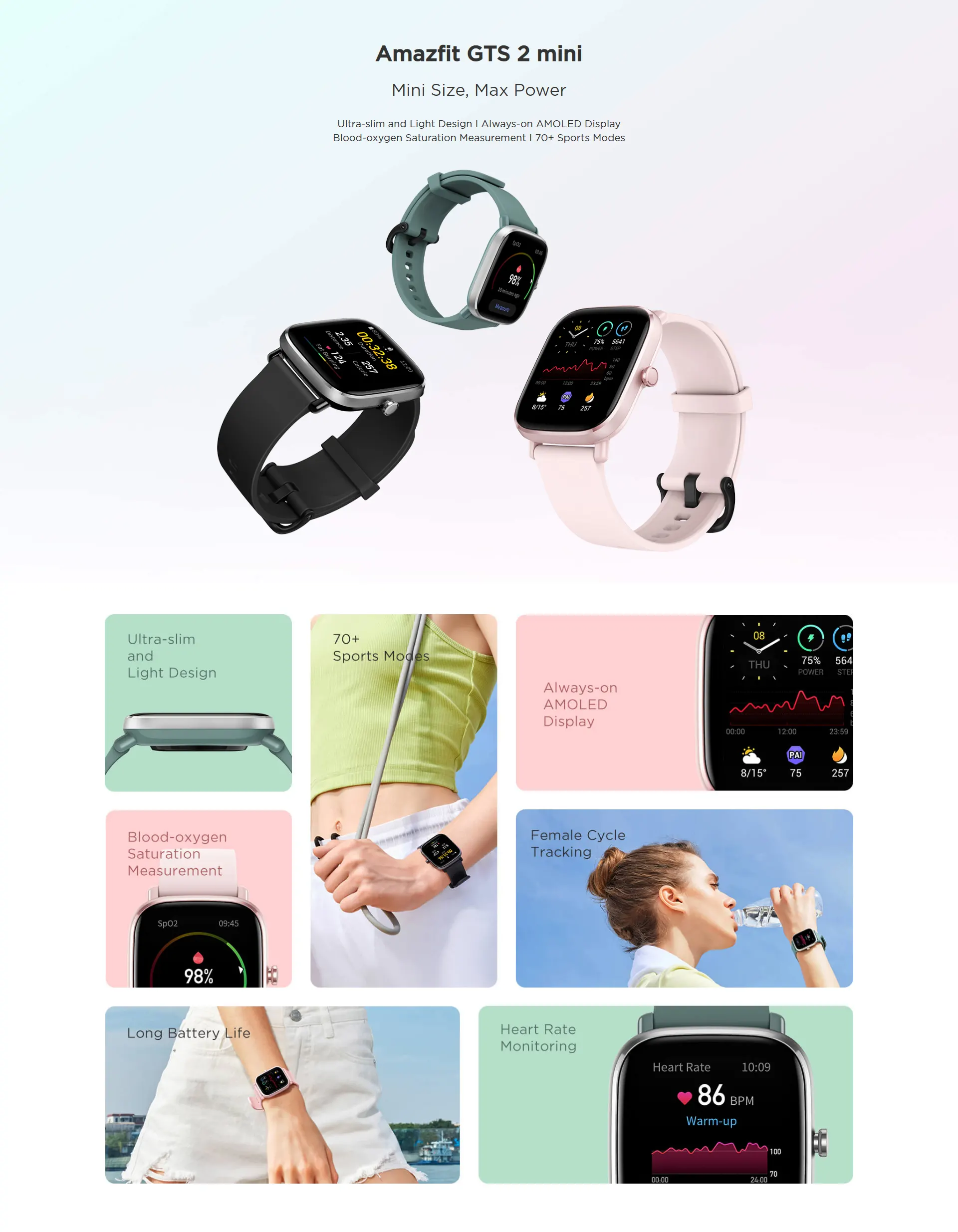 Mini in size, Max in power.
⌚Super Lightweight and Thin The Amazfit GTS 2 mini adopts a borderless design, featuring carefully curved 2.5D glass to enhance your most fashionable outfits. With a light 19.5g weight, a thickness of 8.95mm (without the sensor base), and a skin-friendly silicone strap, the GTS 2 mini allows you to enjoy the lightness of time.
🌈Vibrant AMOLED Display; Enhanced Color and Clarity. The Amazfit GTS 2 mini features a 1.55-inch AMOLED screen, meaning your display will be exciting, vibrant and practical whenever you check the time.
🩸Blood-oxygen Saturation Measurement. Your Personal Health Guardian. Blood-oxygen saturation (SpO2) is one of the most important indicators of human health, and so we made sure to include an SpO2 measurement function for the fully-upgraded Amazfit GTS 2 mini. After engaging in sustained, intense physical or mental activity, hold your arm still and test your SpO2 level the moment you start feeling unwell to get a better understanding of your physical condition.
🕛24H Heart Rate Monitoring; Warnings to Protect You. The 24-hour high-precision heart rate monitoring function of the GTS 2 mini supports industry-leading in-depth tracking of heart health. Warnings for abnormally elevated heart rate are also provided, reducing the probability of accidents and helping to protect your life. ♀️Female Cycle Tracking;Plan Ahead. After recording your menstrual period, the Amazfit GTS 2 mini can intelligently and intimately predict the time and length of the following menstrual and fertile periods, giving women peace of mind. Understand your cycle to avoid surprises.
🕵️‍♂️ Monitor Your Stress Levels; Get Calming Tips when Overwhelmed. Stress is an underlying cause of many health problems. With the GTS 2 mini, you can check to see where your personal stress level lies - from relaxed, normal, medium or high - anytime you feel pressured or stressed throughout the day, and get some suggestions on how to reduce it.
🏅70+ Built-in Sports Modes; Real-time Tracking and Analysis The Amazfit GTS S2 mini features over 70 built-in sports modes, allowing it to cover sports enthusiasts whether indoors or outdoors. For a more complete experience, the watch can control the music on your phone, provide notifications about exercise stages, conditions and heart rate zones, and generate a sport data report in the App after finishing your workout. Mini on the Outside, MaximumPower on the Inside.
⏰Pomodoro clock Despite being miniature, the watch is powered up to the maximum. Experience features beyond the limits of size.
🤳Bluetooth camera Remotely control the mobile phone to take photos and turn on Selfie mode. Breathing exercise Take a rest with your Amazift GTS 2 mini. Learn to relax.
💦5 ATM Water-resistant13 On par with traditional high-end watches and can be worn worry-free for daily use or when swimming.
Customer comments
| Author/Date | Rating | Comment |
| --- | --- | --- |