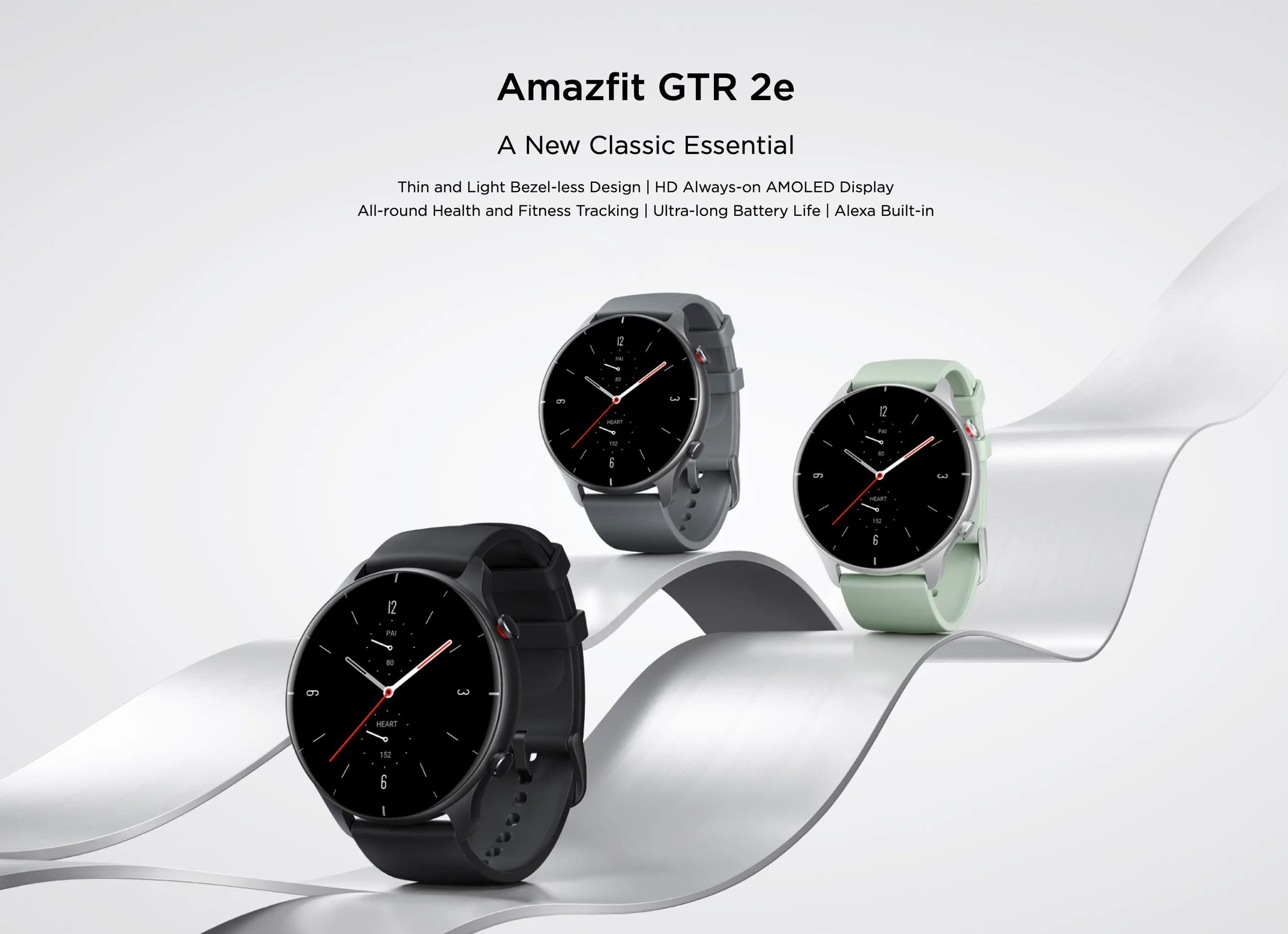 2.5D Curved Bezel-less Design | All-round Health and Fitness Tracking | 24-day Ultra-long Battery Life |
🔨2.5D Curved Bezel-less Design. Integrated Structure; Exquisite Craftsmanship. The Amazfit GTR 2e's integrated design concept, with 2.5D glass which naturally transitions to the Aluminum Alloy watch body, results in a better visual aesthetic and a wider field of vision.
🌈HD Color AMOLED Display. Clear and vivid The large AMOLED high-definition screen with 326 ppi pixel density is clear and vivid, whether displaying the time or any of your favorite apps.
✏️Personalized Watch Faces. A Work of Art on Your Wrist. Dozens of different styles of watch faces are available for download from the App, for you to choose from and switch between. You can also edit the widgets to easily access the information you care about, or upload your favorite pictures to the watch face background to make your Amazfit GTR 2e a unique masterpiece of change and creativity.
⌚️Always-on Display. Confident Time Control. The Always-On Display enables you to view the time even when the watch's other features are inactive, keeping you aware of every important moment in your life, and dozens of matching Always-on Display designs are available to choose from. For added convenience and to save battery power, you can turn off the screen by simply resting your arm or covering the screen.
❤️ 24-hour Heart Rate Monitoring. Stay Safe with Elevated Heart Rate Alerts. The Amazfit GTR 2e is equipped with the Huami-developed BioTracker™ 2, the second-generation PPG bio-tracking optical sensor, allowing it to perform 24-hour heart rate monitoring. It covers heart rate zones and provides warnings when your heart rate is abnormally elevated, keeping you aware of the exercise effect and reducing exercise risks.
📈Blood-oxygen Saturation Measurement. Comprehensive Health Understanding. Blood-oxygen saturation is one of the most important factors of human health, so the GTR 2e has added the blood-oxygen saturation measurement function to keep you on top of your health. When engaged in long-term mental work, or physical activity such as participating in marathons or high-intensity outdoor sports, measure your blood-oxygen level if you feel uncomfortable to keep your health firmly in your hands.
📊PAI™ Health Assessment System. One Score to Summarize Your Physical State. PAI™ (Personal Activity Intelligence) is a health assessment system that uses algorithms to convert complex data such as heart rate, activity duration and other health data into a single, intuitive score, for users to easily understand their physical state. This feature covers any form of exercise at any time and in any place, and also personalizes the health assessment system for each user based on their health data.
😴Sleep Quality Monitoring6 for Optimal Performance. Analyze Sleep Stages and Naps. A good night's sleep is a top priority in the modern world. Therefore, the Amazfit GTR 2e supports in-depth sleep monitoring, which can more accurately determine the sleep stage (the light sleep, deep sleep, REM7 periods), monitor the sleep breathing condition, and provide sleep quality analysis and suggestions for improvement based on a night of sleep. The watch also recognizes naps over 20 minutes between 11am-6pm in order to record more complete sleep information.
😣Stress Level Monitoring. Calm Yourself When Feeling Overwhelmed. Check your personal stress level - relaxed, normal, medium or high - anytime you feel pressured throughout the day, so you know when to relax and reduce it.
🏸90 Built-in Sports Modes. Data Reports for Improved Performance. The Amazfit GTR 2e includes 90 different sports modes, such as walking, swimming, climbing, trail running, skiing and more. Activate the specialized sports mode that you need and, after the exercise is over, the watch will produce a corresponding analytical report in the mobile app which will help you continuously improve your exercise plan.
💦5 ATM Water-resistance. For the Deep-swimmers. The Amazfit GTR 2e has a water-resistance of 50 meters, on par with traditional high-end watches. You can wear it worry-free for daily use or while you swim.
🔋Extended 24-day Battery Life. Powered for Maximum Performance. Featuring a more sophisticated circuit design, a thinner body, and a high-capacity 471mAh battery, the GTR 2e boasts a battery life of up to 24 days on a typical use. With this extended battery life, you are covered wherever your exercise takes you.
📌Vital, Everyday Features at the Ready. Alarms, Events, Timers, and More. The Amazfit GTR 2e can proficiently handle your personal agendas, notify you of incoming calls or messages, and provide movement reminders when you have been sitting for too long. The watch will also track your events, and offers Do Not Disturb, stopwatch and weather forecast functions, as well as enabling the setting of alarms and timers.
🎁Package Included Amazfit GTR 2e x 1, Wired Charger x 1 , Manual x 1
Customer comments
| Author/Date | Rating | Comment |
| --- | --- | --- |