Product Info
𝐇𝐈𝐆𝐇𝐋𝐈𝐆𝐇𝐓𝐒 𝐏𝐮𝐫𝐢𝐟𝐢𝐞𝐫 𝟒 𝐒𝐞𝐫𝐢𝐞𝐬
⭐ 𝐗𝐢𝐚𝐨𝐦𝐢 𝐀𝐢𝐫 𝐏𝐮𝐫𝐢𝐟𝐢𝐞𝐫 𝟒 𝐋𝐢𝐭𝐞 / 𝟒 / 𝟒 𝐏𝐫𝐨 ⭐
𝐄𝐱𝐜𝐥𝐮𝐬𝐢𝐯𝐞 𝐭𝐨 𝟒 & 𝟒 𝐏𝐫𝐨
👉【Excellent Design】Magnetic door design for easy and close (For 4 & 4 Pro)
👉【Negative Air Ionization】Enhanced air purification with dust cleaning that will make you feel as though you're in the forest (For 4 & 4 Pro)
𝐏𝐮𝐫𝐢𝐟𝐢𝐞𝐫 𝟒 𝐒𝐞𝐫𝐢𝐞𝐬
👉【Durable & Long Lasting】Offering ABS body and weather-resistant
👉【OLED Display】Display the real-time PM2.5/PM10 status without the need to check from a smartphone app
👉【Low Noise】Reduce noise for a better environment
👉【 High-Efficiency Purification】Strengthen filtration power to remove the formaldehyde, methylbenzene, and other harmful gases to protect our health
👉【PM2.5/PM10 Dual Effect Sensor】Indoor monitoring for coarse and fine particles
👉【Auto Mode】Monitor real-time air quality and automatically adjusts the purification speed
👉【Voice-Control Support】Activate your purifier with your voice
👉【Smart Control】Remotely control using Mi Home APP to build you a smart home with other Mi smart products
⚙SPECIFICATIONS⚙
𝐗𝐢𝐚𝐨𝐦𝐢 𝐀𝐢𝐫 𝐏𝐮𝐫𝐢𝐟𝐢𝐞𝐫 𝟒 𝐋𝐢𝐭𝐞
✍ CADR Particle: 360m³/h
✍ Noise Level: 33.4 dB(A)
✍ Effective Coverage Area: 25 - 43m²
✍ Net Weight: Approx. 4.8kg
✍ Item Dimension: 24 x 24 x 53.3 cm
𝐗𝐢𝐚𝐨𝐦𝐢 𝐀𝐢𝐫 𝐏𝐮𝐫𝐢𝐟𝐢𝐞𝐫 𝟒
✍ CADR Particle: 400m³/h
✍ Noise Level: 32.1 dB(A)
✍ Effective Coverage Area: 28 - 48m²
✍ Net Weight: Approximately 5.6kg
✍ Item Dimension: 25 x 25 x 55.5 cm
𝐗𝐢𝐚𝐨𝐦𝐢 𝐀𝐢𝐫 𝐏𝐮𝐫𝐢𝐟𝐢𝐞𝐫 𝟒 𝐏𝐫𝐨
✍ CADR Particle: 500m³/h
✍ Noise Level: 33.7 dB(A)
✍ Effective Coverage Area: 35-60m²
✍ Net Weight: Approximately 6.8kg
✍ Item Dimension: 27.5 x 27.5 x 68 cm
Xiaomi Air Purifier 4 Lite – High-Efficiency Filter | High-Precision Sensor | LED Touch Sensor
Product Details :
High Efficiency Filter
PCADR 360m°/h & FCADR 120m#/h, eliminate 99.97% of pet dander, dust, pollen, smoke, TVOC and fine particles as small as 0.3 microns( (less than one percent of a hair diameter ).
To purify a room of 120m only needs one hour.
High-Precision Sensors
PM 2.5 sensor to monitor air pollutants fine particles;
Humidity & Temperature sensors to detect air humiture
LED Touch Screen
Air quality index of PM 2.5 pollutants can be clear at a glance;
Temperature, humidity and working status display;
Smart Control
Mobile phone control with Mi Home APP to build an intelligent home scene with other Xiaomi smart products.
Works with Google Assistant and Amazon Alexa for voice command.
Compact But Powerful
Only covers an area of A4 paper, but to purify a room of 120m' only needs one hour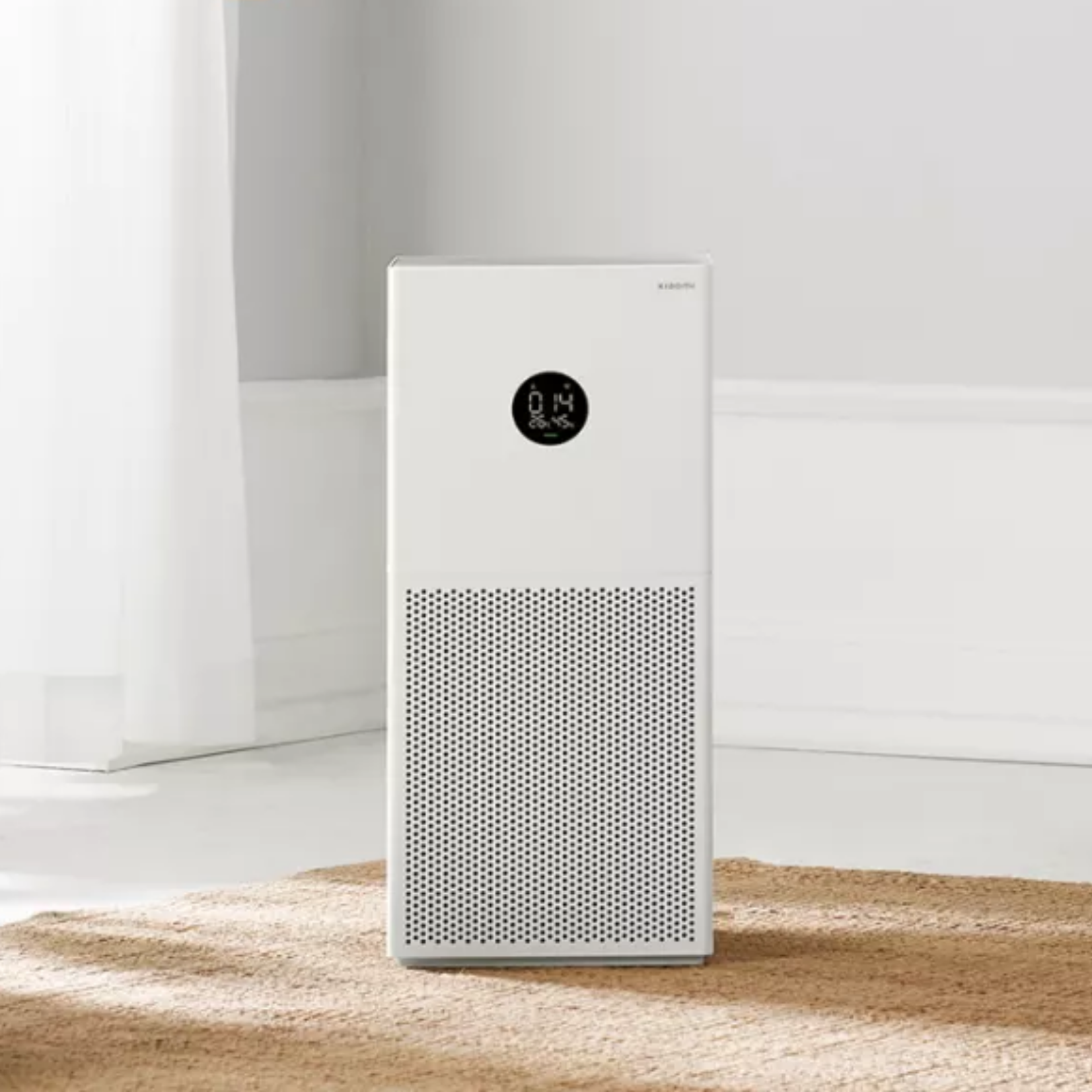 Xiaomi Air Purifier 4 Pro | High Efficiency Purification | OLED Touch Display | Low Noise
Product Details:
– Covers an area up to 60m² (645ft²)
– PM CADR value of up to 500m³/h
– Pollen CADR up to 550m³/h
– Formaldehyde CADR up to 200m³/h
– Toluene CADR up to 147m³/h
– 99.99% removal rate of H1N1 Virus
– 99.99% removal rate of Staphylococcus Aureus Virus
– 99.99% removal rate of Escherichia Coli Virus
– Fully upgraded 5-layers filter
– Extended filter life of up to 270-days
– New quiet and powerful sleep mode
– OLED touchscreen display shows air quality at a glance
– APP + Al smart voice control (Xiao Ai)
Specifications :
Product Dimensions : 275 x 275 x 680 mm
Weight : approx. 6.8 kg
Rated Voltage : 100-240V
Rated Power : 50 W
Wi-Fi Module : 802.11b/g/n 2.4Ghz
Recommended Effective Area : 35m² to 60m²
CADR (Clean Air Delivery Rate) : 500m³/h PM CADR
Smart Control : Mi Home app
Customer comments
| Author/Date | Rating | Comment |
| --- | --- | --- |